Heart Disease in Women
Heart disease is the number one killer of women, causing 1 in 3 deaths each year. That's approximately one woman every minute!
But it doesn't affect all women alike, and the warning signs for women aren't the same in men.
Your risk of cardiovascular disease is affected by being overweight, not being physically active, having a family history of type 2 diabetes or previous diabetes in pregnancy.
You can reduce your risk of developing cardiovascular disease with small lifestyle changes:
By keeping active.
Not smoking.
Reducing your alcohol intake.
Managing your diabetes and blood pressure.
Managing your blood cholesterol.
Managing your weight
People who carry too much weight around their middle have a greater risk of developing coronary heart disease, high blood pressure and diabetes.
Research shows that if you're African Caribbean you may be at increased risk of some health conditions at a smaller waist measurement than people from white European backgrounds. Women of an African Caribbean background tend to have a larger waist circumference, which puts them at increased risk of type 2 diabetes and high blood pressure.
You can work out if you're at increased risk by simply measuring your waist. Find the bottom of your ribs and the top of your hips, and measure around your middle at a point mid-way between these. For many people this will be at the level of the tummy button. Remember not to breathe in!
If you are at high risk, don't panic – being active and making simple changes to your diet can help you lose weight.
Eating right
Eating healthily will help you to control your weight, blood sugar and cholesterol. The varied range of fruits, vegetables and grains in African Caribbean food provide a good range of vitamins, minerals, fiber and protein.
However, adding too much fat and salt to your meals can make these foods less healthy. Try using less oil, and choose unsaturated oils such as olive oil, rapeseed oil, sunflower oil instead of palm oil.
Aim to eat at least 5 portions of a variety of fruit and vegetables a day to help protect you against heart disease. Try cooking with okra and green bananas - they'll help you reach your daily target.
Hold the salt
It is recommended that adults have no more than 6 grams of salt a day.
Try adding fresh herbs and spices, garlic, peppers, chilies and limes, rather than salt, to bump up the flavor of your favorite dishes.
Health check
A health check is an assessment carried out by your doctor to find out your risk of cardiovascular disease and other conditions.
Based on your results, your doctor will advise you on what you can do to keep your heart healthy, and consider treatment - such as medicine - to protect your heart.
Free health checks are also available in most clinics around the island of Antigua and Barbuda. It does not cost a thing to do the right thing. Know your numbers.
Knowing your numbers is important! The American Heart Association, American Diabetes Association, The Caribbean Association of Family Practitioers and the Antigua and Barbuda Medical Association all recommend that you be aware of five key numbers:
Total Cholesterol
HDL (good) Cholesterol,
Blood Pressure
Blood Sugar
Body Mass Index (BMI).
These numbers are important because they will allow you and your doctor to determine your risk for developing Cardiovascular Disease by Atherosclerosis. This includes conditions such as Angina (chest pain), Heart Attack, Stroke (caused by Blood Clots) and Peripheral Artery Disease (PAD).
Learn about your health numbers by scheduling a Well-Woman Visit with your doctor today.
Ideal numbers for most adults are: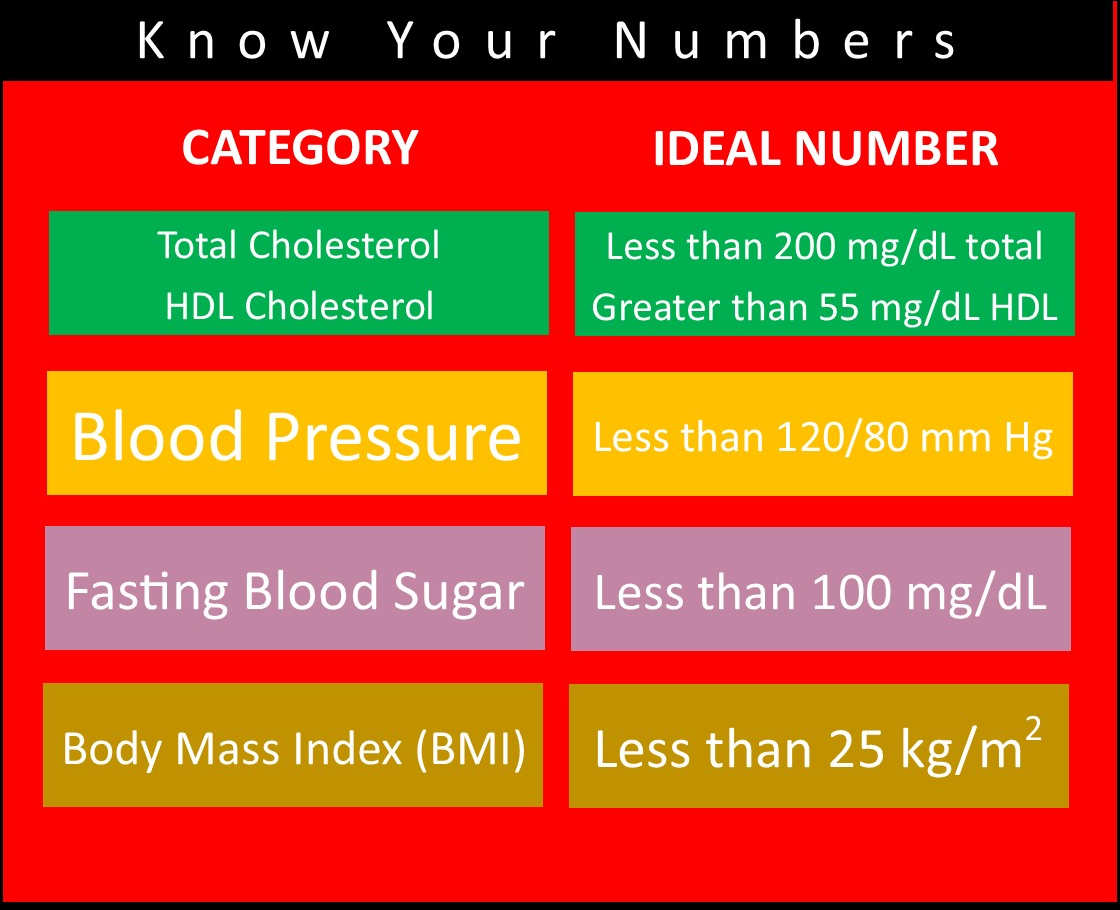 VIDEOS
Empowering Women's Health
Facebook Post
This is supposed to be the facebook post
LOVE QUOTE OF THE DAY
"Love you will find only where you may show yourself weak without provoking strength."